What can seen?
Plenty, but depends how open the signature is.
What traits can we identify in signatures?
Does it make sense that if you can read a persons' signature then that also indicates the person is open? Of course it does.
But!
Our signature is our badge to the world and how we wish to be perceived.
Any analysis I perform is as if I have never met the person or know anything about them. Re my ABC Hobart live interview with Joel Rheinberger on my Radio page here https://thewriteguy.site123.me/radio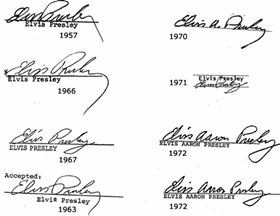 Whenever I perform a full analysis I insist on the usual handwriting for accuracy. SEE HANDWRITING ANALYSIS ON MY NEXT POST
Elvis's Signature is easily read. What you see is what you get. Very unusual particularly in the world of "celebrities". And it didn't really change across those years so he was consistent.
His "E" displays a desire for sultural activities. Art, music(of course) cuisine, museums........... Whatever he was attracted to.
Letter "P" indicates he was proud of his surname. in 63-67 it also displays the desire to be loved by many. I know that's an obvious but if the shape wasn't there in the "P" I wouldn't reference it.
Elvis was a selctive listener. He would tune out consversations and focus on what he wanted to hear.
Great with people and very emotional. I can only discern pen pressure from original copies. This is emotional intensity. The heavier the writing, the more emotional events affect the writer. This trait also indicates passion and drive. Elvis's writing appears heavy but I confirm that.
Very stubborn. Once Elvis had made up his mind that was it. A frustrating trait for those close to him. Stubborn people refuse to listen to any more info because the have decided they are right. After stating this, many of us have this. Do you?
Elvis had a huge physical drive indicated in the extremely long descenders in the letter "y". Everything physical that is. Drive, sport, can't sit still and sex.
So no real surprises. But is it consistent with his regular writing?
All will be revealed in my next post!